Dr Ernő Andrassy
He was born in 1894 in Sălacea, Szalacs in Hungarian, village located 10 km from Ermihályfalva. His father was also named Ernő Andrássy, he was also a doctor. His son was also named Ernő Andrássy, he was also a doctor, surgeon, in Budapest. After studying in Budapest and Munich, the young Ernő took over his father's office at Érmihályfalva. Very human, very curious about everything, he was interested in archeology, ornithology, numismatics. A museum today presents some objects from his personal collection. A bust represents himself on the main square of Ermihályfalva, which takes his name. Look at this
Wikipédia
page for more details, in French or in Hungarian.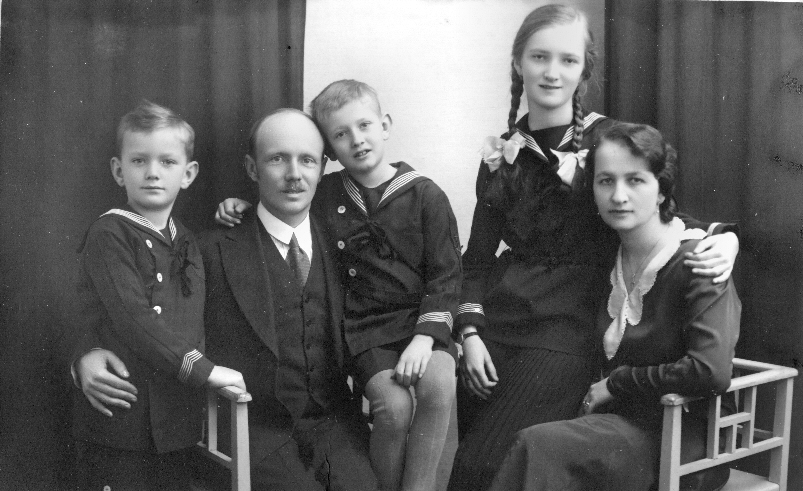 This familly photo of the Andrássy family dates from the 1930s.
Péter, the son sitting in the middle, died in 21st December, 2016.

The Geiger and Andrássy families were very friendly.

When Viktor returned from deportation on January 2, 1947, he called his friend Ernő from the station.

Picture of the station, around 1910.

It is Péter who comes to the station, with his father's horse-drawn carriage, to accompany Klára and Viktor to their homes.



Péter talks about the day by telephone. He is 93 years old. The conversation is in Hungarian.


This photo dates back to the 1930s.
1 - Viktor Geiger
2 - Dr Ernő Andrássy
3 - Maria, Viktor's wife
4 - Irén, Ernő's wife